Year 4 is a very busy year! We have lots planned. Our topics include World War 2, Superheroes, London, Dinosaurs and Wonders of the World. We will be doing lots of exciting work within these topics and we hope you keep visiting our page to see some of what we get up to!
We were improving our kicking skills in PE.
Our topic of London is so interesting. We loved learning about Leonid Afremov and painting our own versions of his London work.
Using Art Straws to create our own dinosaur skeletons. We also painted our clay fossils.
Tessellating shapes and making them on geoboards! What fun!
Learning how to draw dinosaurs with 2D shapes.
Learning about money through MyMaths and using our coins!
Our topic has been Superheroes and we enjoyed creating our own superhero dramas!
We learned about the Black Out during World War 2. It got us thinking... what materials would be best to use in a Black Out. Check out our investigation by looking at the pictures below. You'll have to ask us what we found out!
We used the Atlas and internet to find out which countries were involved in WW2.
Henry Moore is an artist who did lots of paintings during the war. One of them was 'Flashes from the Ground'. We did our very own impressions of his work.
Learning to write numbers in words.
We are hard at work, ordering and sequencing numbers.
Enjoying learning with St Brigid's. We built bridges with cardboard and managed to walk over it without it collapsing! We also used the iPads to create books about our favourite topics.
Since London is our new topic, we began to build towers out of spaghetti and marshmallows and lego!
We visited Ballymoney Library. It was great learning all about how we can borrow books from here and hearing excellent stories from fantastic story tellers!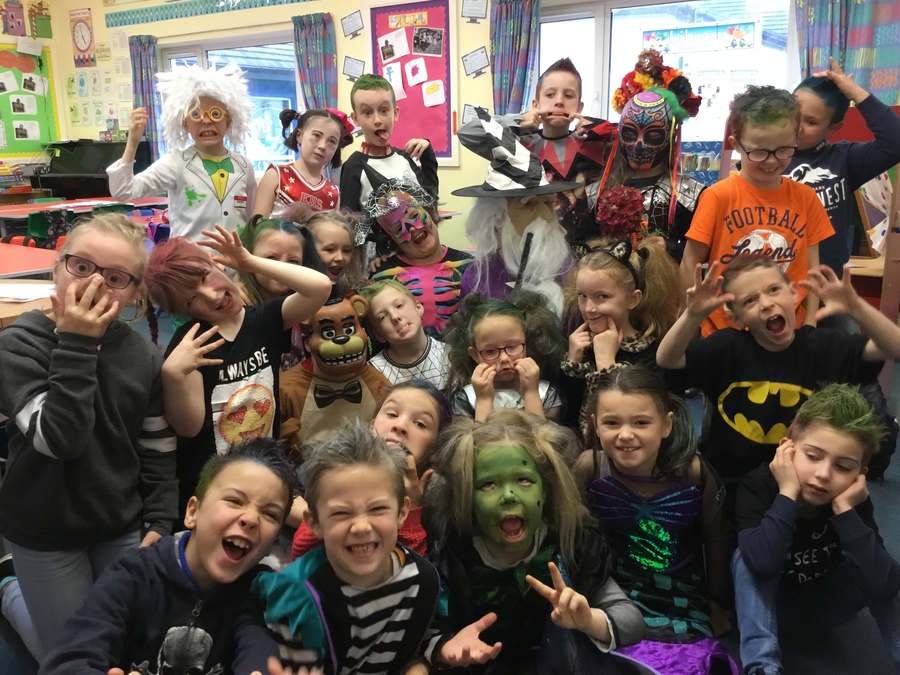 Ditch the Dark Day!
We know how to Be Bright to Be Seen. It's great to see so many people travelling actively to school. We want to do it more often. Even if it is only once a week!