Welcome to our Year 4/5 page. Our Year 4 teacher is Miss Alexander, our Year 4/5 teacher is Mrs Hanna on Monday -Wednesday and Mr Moore on Thursday and Friday. Our Year 5 teacher is Miss Kemps.
Topics studied during 2018/2019
Year 4: World War 2, Superheroes, Dinosaurs, London and Wonders of the World.
Year 4/5: Ocean Life, Fairtrade, Tudors, Early Man and Energy and Recycling.
Year 5: Matilda, Winter, Mighty Me, Northern Ireland and Ancient Egypt.
What should your child have with them each day?
It's important that your child comes fully equipped to school and is ready for all of their school activities. Children in Year 4/5 should have these essentials:
Pencils
Rubber
Sharpener
30cm ruler
Homework diary (signed), reading book and any other homework
Healthy break/packed lunch/dinner money
Any notes that have been sent home, returned and signed
Homework
In Year 4/5 homework, we see homework as an important part of your child's development. From Monday-Wednesday your child will receive reading, spellings, tables and a written piece of homework. On Thursdays children are to revise their spellings and tables, in addition to any reading homework they may have to do. On Friday, children will complete spellings and tables tests, and then take home their weekly test books. These should be returned on Monday with parental signature.
Uniform
In Year 4/5, children should wear proper uniform at all times- we want to be the best dressed year groups in the school!
PE Kits- The class teacher will inform children of their PE day and they will need the following:
A fresh t-shirt
Shorts/tracksuit bottoms
Trainers
Swimming
Children will be told when their swimming sessions are, and letters will be handed out informing parents of such dates. Please see below the dates for swimming:
Term 1: Year 4/5 on a Monday
Term 2: Year 5 on a Monday
Miss Alexander's class will not go swimming during the 2018/2019 academic year.
Drinks
Children may bring a bottle of water to have at their desk each day.
Many thanks,
Year 4/5 teachers
Miss Alexander's Year 4 are happy to be at school!!!
We made a class comic strip about going to the school disco!
During WW2 people used Anderson Shelters to protect themselves during an Air Raid. We decide to make our own version. It was great fun!
Here we are getting to know other boys and girls from St Brigid's. We can't wait to take part in all the STEM activities that are coming up in the next few weeks!
What creative ideas we have!!! Pumpkins and Mad Hair!
At Shared Education we have been learning about Chromatography and the impact of gravity.
Alphabetical order, our or are and rhyming words!
Our Christmas Show. Don't we look good!
Learning about primary and secondary colours in art!
Dance in PE is so much fun!
Converting media.
(Media will continue converting in the background)
Using clay to create our own dinosaurs! Don't they look fabulous!
At Shared Education we learned what melted ice more quickly, table salt, rock salt or sugar. Mr Moore also did some drama and music with us. Learning is great!
Learning how to subtract using decomposition.
Painting in the style of Leonid Afremov.
Learning about circuits and electricity.
Miss Kemps' Year 5 are ready to go for the school year ahead!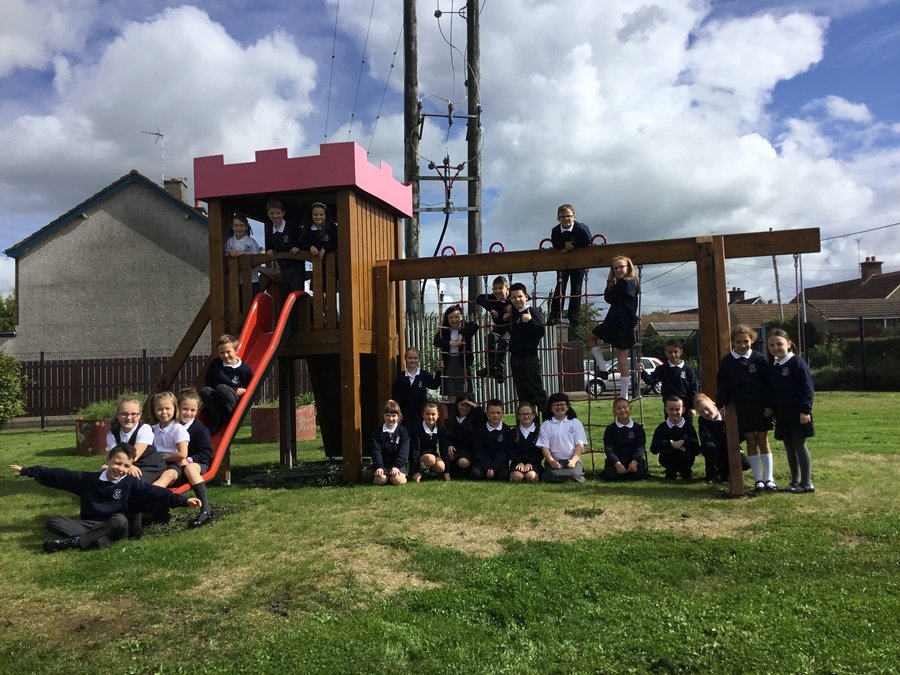 Roald Dahl Fact Files
We used QR codes and iPads to find information about Roald Dahl. Have a look at the Pic Collages in the Gallery below to see what we found out.
Science Investigation
Year 5 are enjoying their Matilda topic this term. However, they think that Miss Trunchbull is very mean so they decided to plan a trick to get her back... 'The Explosion'. We added Mentos to Diet coke and it EXPLODED!
We drew pictures in the style of Quentin Blake - the illustrator of Matilda by Roald Dahl.
Shared Education
Year 5 in the Leaney and St Brigid's have enjoyed a lovely couple of days in each other's schools, kicking off this year's Shared Education Project.
This year's theme is a sporting one, where the children will have the opportunity to try out some new sports in a fun environment. We are looking forward to trying out Frisbee, baseball, bowls, table tennis, mini-golf, basketball and much more!
We worked very hard for the Pumpkin Carving Competition. Which is your favourite?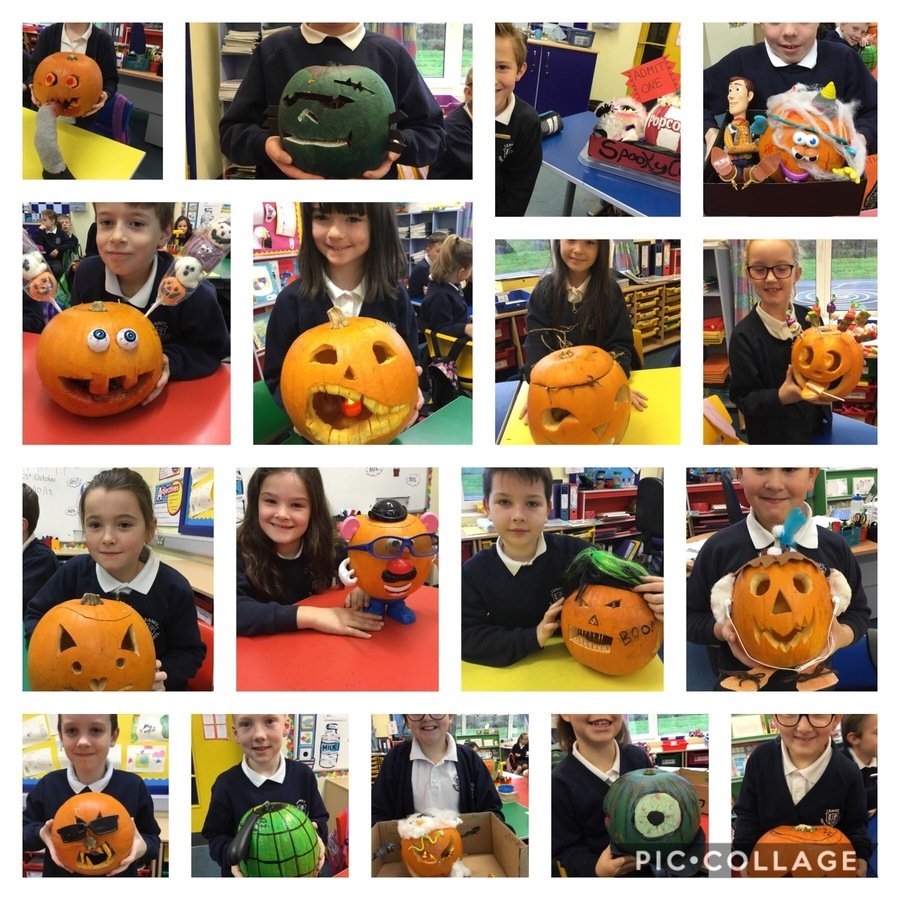 Creative hair in Year 5.
We love Mad Hair Day!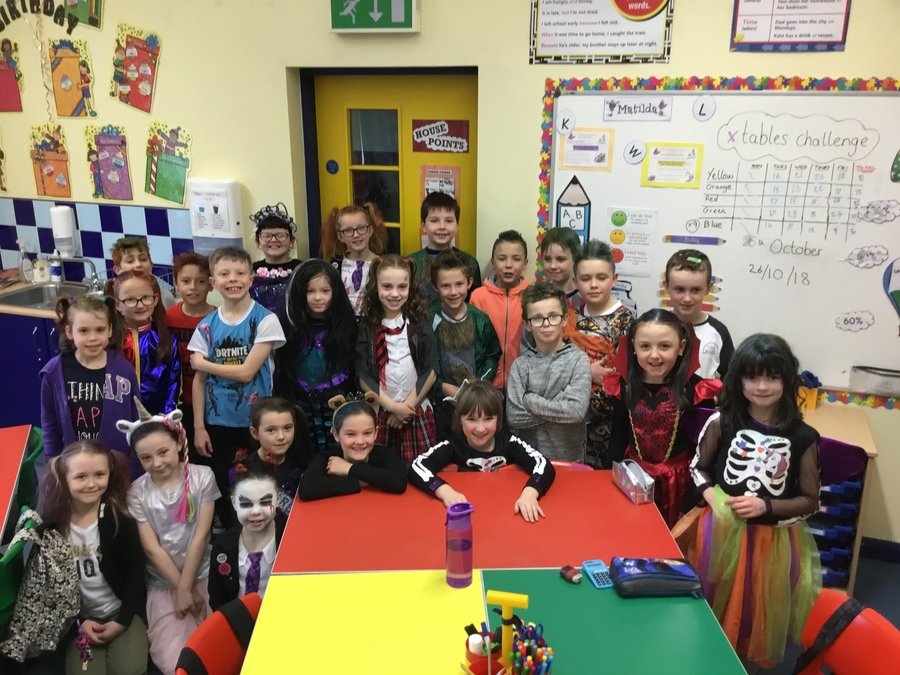 SHARED EDUCATION -
Thursday 8th November
Year 5 had a brilliant time learning how to play American sports with the Year 5's from St Brigid's. We can't wait to meet up with our friends from St Brigid's next week and try American football and Frisbee.
We know how to keep fit and healthy!
Thank-you to Kathryn and Ellen from the Dairy Council who taught us all we need to know so we can live a healthy lifestyle.
In science we've been getting to know our bodies - we can name all of the organs!
Andy Warhol Pop Art
Year 5 created their artwork using the computer. They enjoyed using the 're-colour' and 'artistic effect' tool to create Pop Art pictures.
SHARED EDUCATION - FEBRUARY 2019
Boccia, Table Tennis and Curling - Year 5 had a ball trying new sports!
World Around Us - Investigation
Ever wondered how our digestive system works? Well... take a look at the slideshow below and you will soon find out! Year 5 explored how food moves through the body using a range of materials. Some of us thought it was a bit gross - take a look at our faces!
Egyptian Art
Making Egyptian jewellery using paper plates, metallic paint and pasta - SIMPLE!
Practical Maths - Volume
We used the equation:
Volume = l x w x h.
We checked our answers by counting the number of cubes.
Carrowmena Shared Education Trip
We had a fantastic day in Carrowmena!
We took part in archery, zip-lining, orienteering and the hair-raising 'Leap of Faith'. The children really pushed themselves out of their comfort zone and rose to the challenge.
This was our last outing with the St Brigid's through Shared Education. We have really enjoyed taking part in different activities with them this year. Thank you to all the wonderful staff in Carrowmena for a great day!
Have a look through the photographs below!
Mrs Hanna's Year 4/5 are excited and ready to learn this year!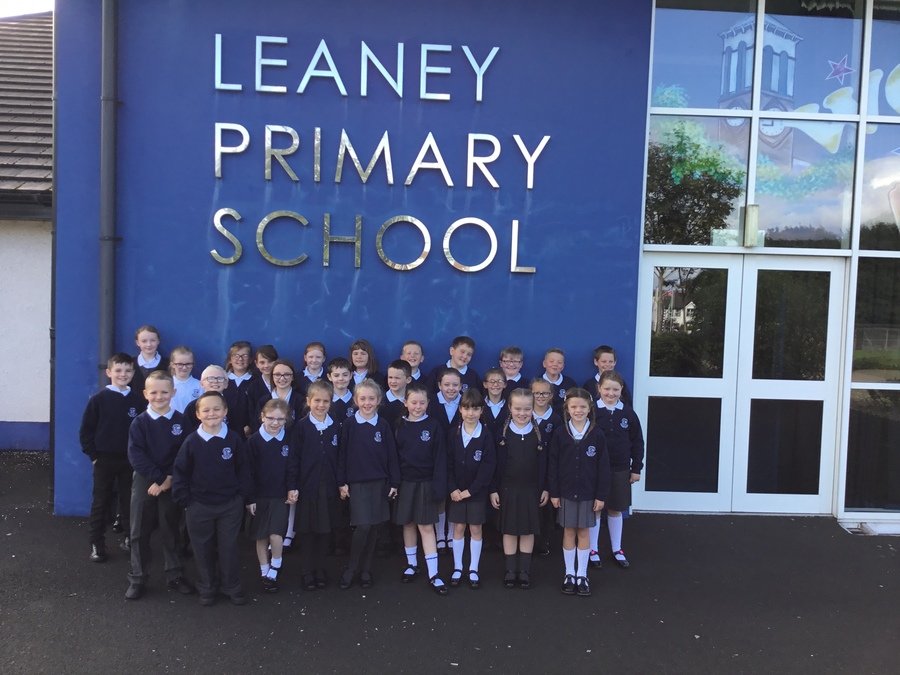 Problem Solving
Year 4/5 have been enjoying problem solving. They had to solve the clues to 'What's my Number?'
Maths Games
It has been a lot of fun playing Crooked Rules in Year 4/5! We found a strategy for making the lowest/highest number. We earned house points for the most points scored.
Verbs
Year 4/5 have been learning more about verbs. We enjoyed performing lots of actions so that the rest of the class could guess the verb!
Geoboard and Pegboard fun!
We really enjoyed creating regular and irregular shapes using geoboards, pegboards and the geoboard app on the iPad. Have a look at what we created...
Year 4/5 have completed their scratch artwork. They used bright colours, covered over the colours in black paint and then scratched their sea design in with a special pencil. Great job boys and girls!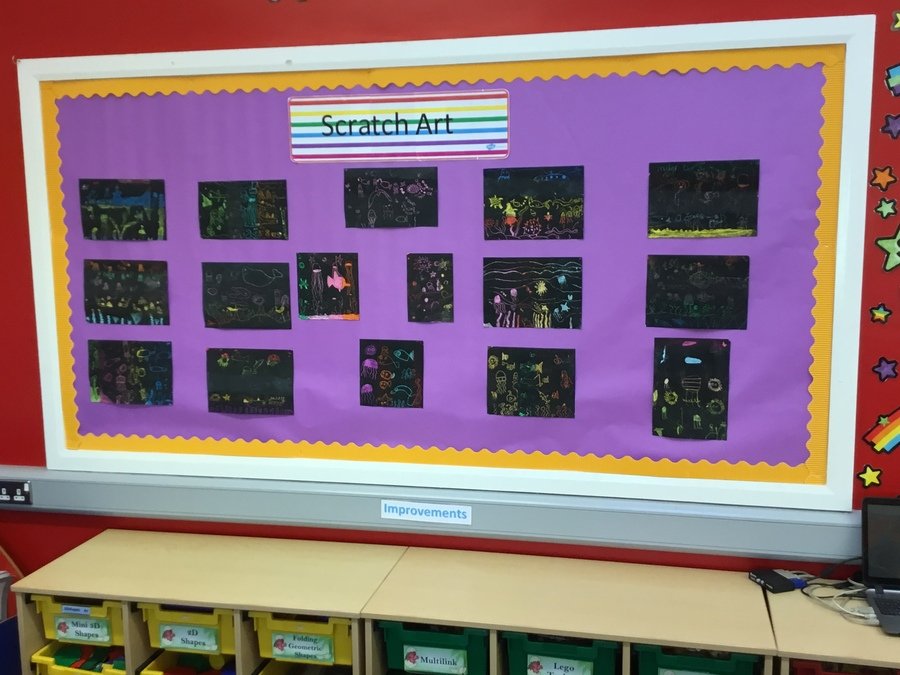 What do you think of our very creative pumpkins?
Year 4/5 have been busy investigating the properties of 3D shapes.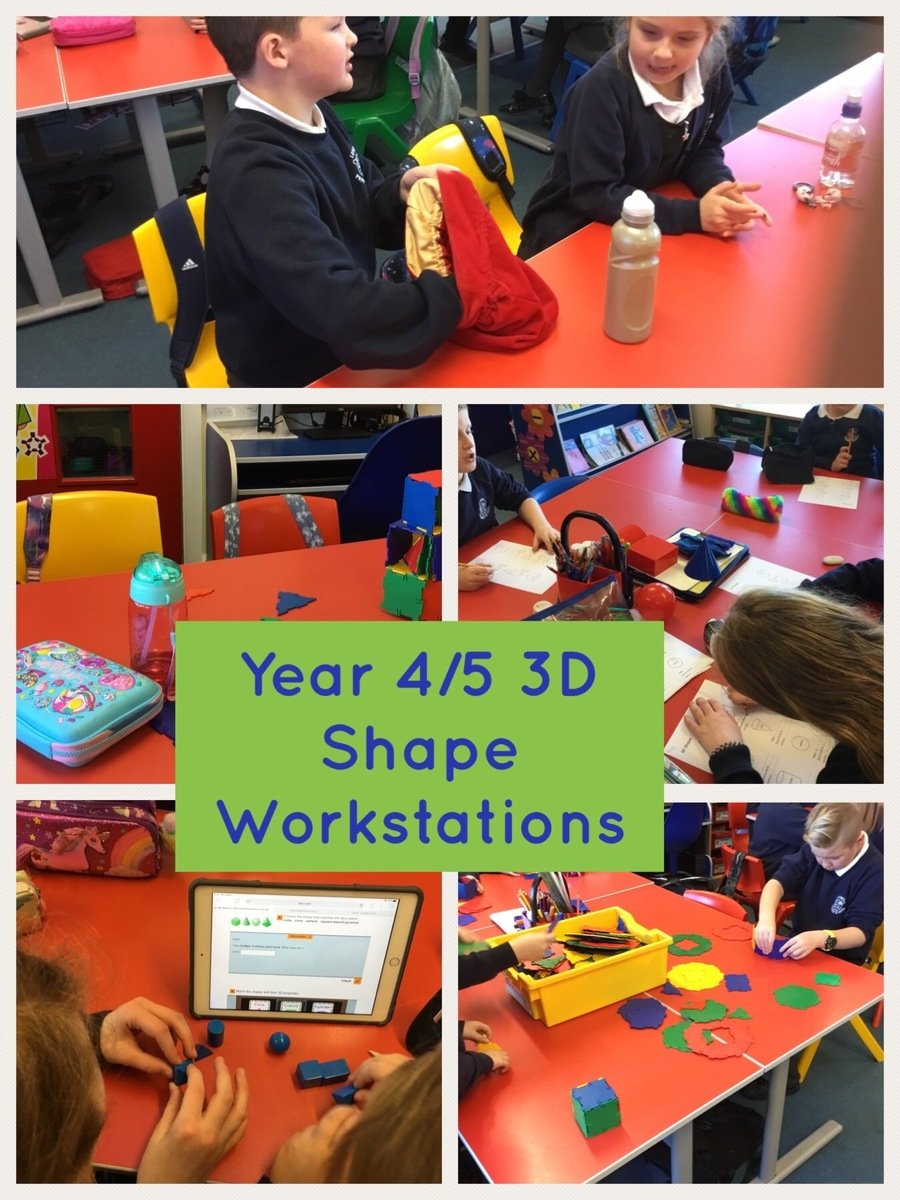 Year 4/5 have been building 3D shapes from nets. They were confidently able to identify that the house was made from cubes and square based pyramids. Good job boys and girls!
Year 4/5 have enjoyed their shape and times tables activities. They worked in groups to do this and had to 'beat the clock'. In some cases, they only had one minute to choose flat shapes from their table to create a 3D shape! Great work boys and girls!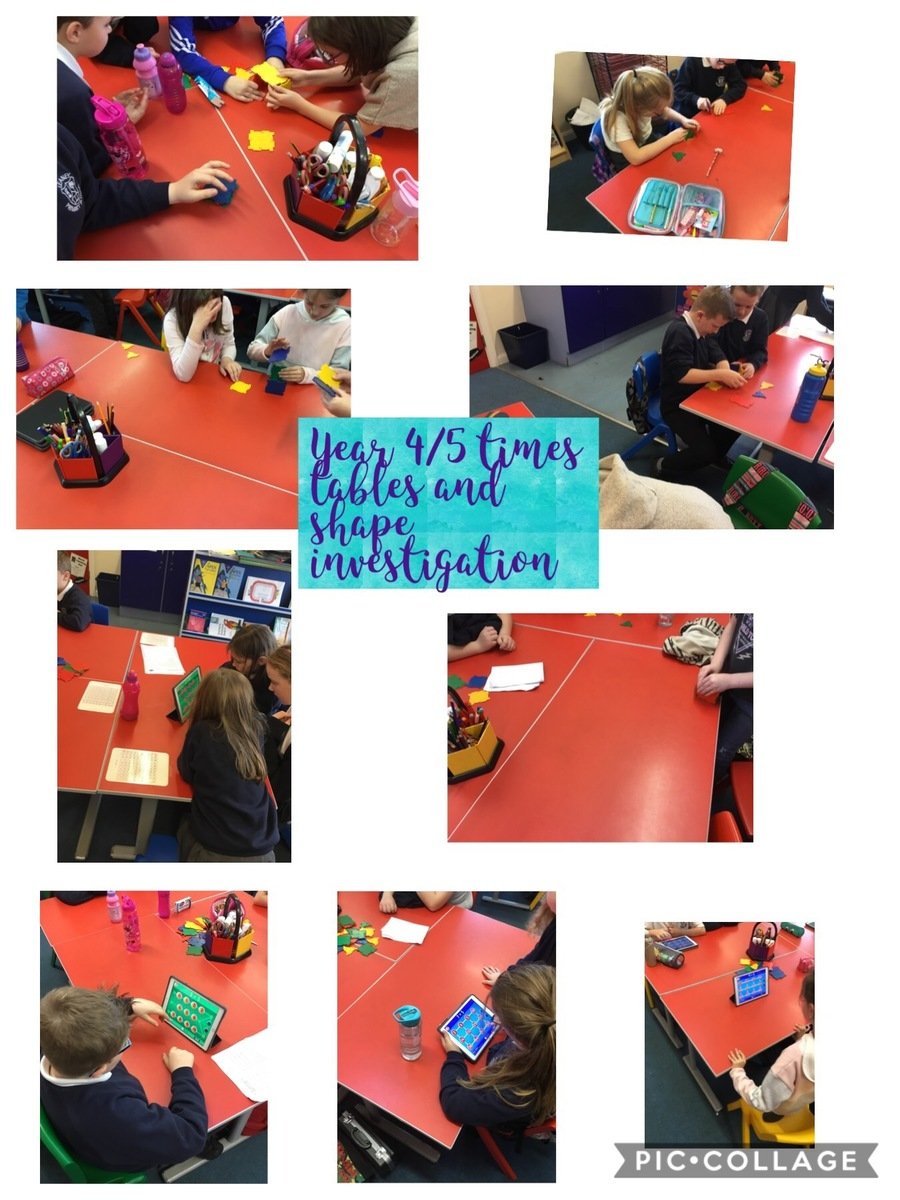 Year 4/5 have thoroughly enjoyed their Fairtrade topic. Our interactive display shows various Fairtrade products from around the world. Did you know that some of the delicious Ben and Jerry's ice cream comes from Nigeria?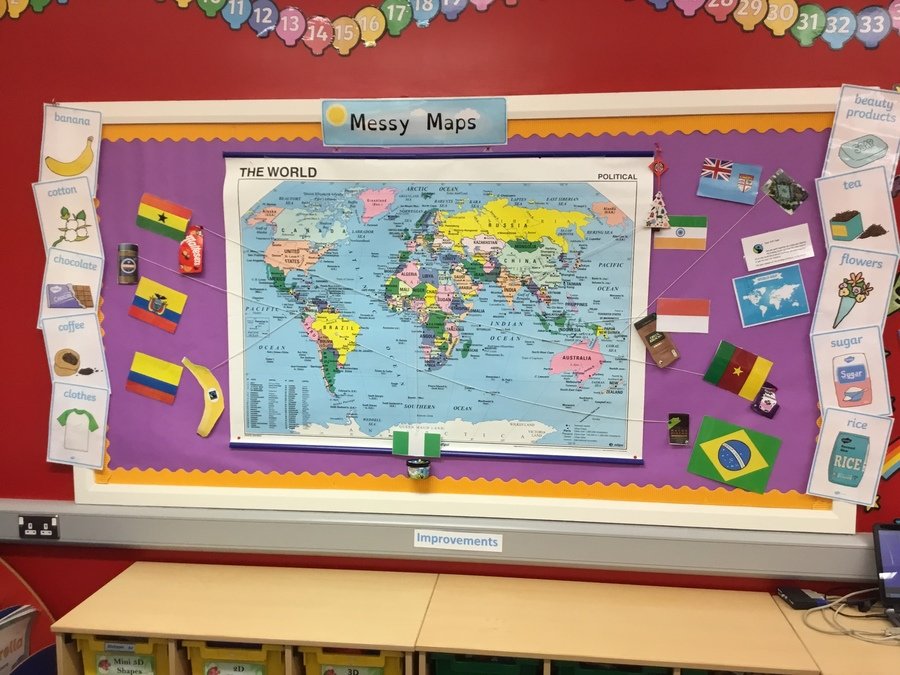 Year 4/5 have enjoyed showing off their Tessellation skills. Check out the display board in the corridor!
Year 4/5 have been hot seating as characters from Shakespeare's 'A Midsummer Night's Dream'. Lucas and Anayah were very convincing in their portrayal of Oberon and Titania.
Year 4/5 have enjoyed working on iPads in partnerships. They have problem solved extremely well to produce fantastic pieces of coding!
Y4/5 shared multilink to help with their understanding of fractions.
We enjoyed creating four different angles using pipe cleaners and geoboards/elastic bands.
Year 4/5 enjoyed 'hunting' their prey in the lovely March sunshine!